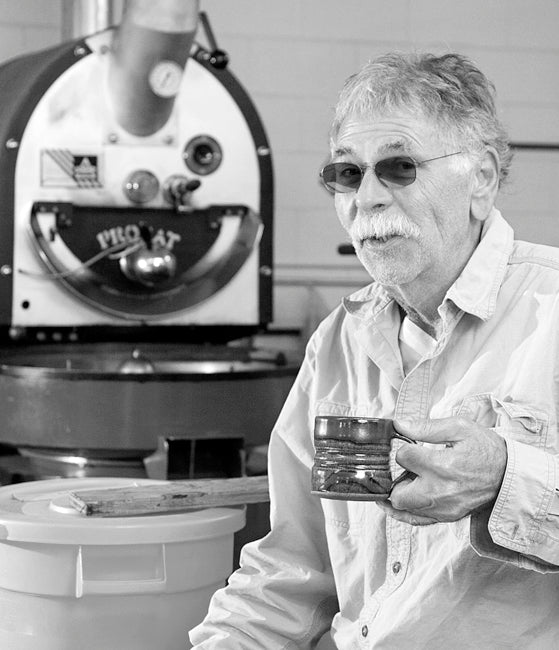 About S.K. Quigley
"There is a craft quality involved in roasting that I enjoy," Quigley says. "Coffee is also a drink that most people share, and when they share it, it's a nice moment in the day." - S.K. Quigley
Behind the cups of coffee poured at such places as Finch's Brasserie, Lennie's, and Bloomington Bagel Company, there is a Bloomington man and his coffee roasting company that started in 1985.
Partridge & Quigley started as a one-man operation. Quigley, a tall, low-key man who took his coffee black, did the roasting, bookkeeping, and delivering to businesses. He worked without a cell phone or computer. On the side, he was an artist who created mixed-media pieces out of ceramic, copper, and wood.
Quigley started roasting in the '70s and had operated his own micro-roasting company for more than 25 years, first in Indianapolis. His approach was to start with high-quality raw beans, then roast simply and deliver fresh. He bought green beans in small batches from Theta Ridge Coffee, a bean broker in South Bend. Using a manual machine, he roasted in small, 25- to 30-pound batches, cooled them naturally, then tucked the beans into brown bags. They were delivered to businesses within one to two days of being roasted.
Partridge & Quigley has passed the torch to new owners with the same mantra for quality coffee roasted locally and delivered quickly.
Shoppers can now buy bags of Quigley's roasted beans online, as well as locally at Bloomingfoods Market and Deli, some Kroger stores, and O'Malia's in Bloomington, a few select stores in Indianapolis, as well as Nashville, Indiana.